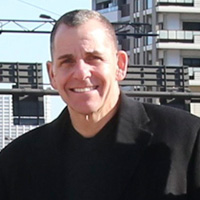 Eisenhut opts for business opportunity over sheriff's bid
STORY BY RAY MCNULTY (Week of May 4, 2023)

Less than a week after saying it was the "right time" to get into the 2024 Sheriff's race, retired federal agent Jim Eisenhut has decided to pursue a potentially lucrative business opportunity instead.
Eisenhut, a Vero Beach High School graduate and former sheriff's deputy who went on to spend 20 years as a special agent with the State Department's Diplomatic Security Service, said he and his brother have bought five "Scent-Hound" dog-grooming franchises they plan to operate in the Orlando area.
The first two shops are scheduled to open this summer, and he said it wouldn't be fair to "dump all that work" on his brother, who was willing to accept the added burden to accommodate the demands of a political campaign.
"I needed to take the time to very seriously consider running, because as much as I want to be sheriff and serve this community, I was already involved in our business ventures," Eisenhut said last week.
"I tried to find a way to do both, but if I ran for sheriff, I wouldn't have the time or energy to help get these franchises going," he added. "We have a substantial investment in them, and I just couldn't do that to my brother. It's just not the right time, because I'm not going to run for sheriff if I can't give 110 percent."
Eisenhut, 53, said being sheriff here was "something I always wanted to do," and he was expected to formally announce his candidacy last week.
He said several recently retired members of embattled Sheriff Eric Flowers' command staff, along with other current members of the agency, had "reached out" to him and offered to support his campaign.
As of midday Monday, Flowers hadn't yet filed to run, but he said last year he will seek re-election to a second term.
The only candidates to file the necessary paperwork for the 2024 sheriff's race thus far are Fellsmere Police Chief Keith Touchberry, Sheriff's Captain Milo Thornton  – both Republicans – and former bank executive Deborah Cooney, who is running with no party affiliation.
Touchberry was the runner-up to Flowers in the 2020 Republican primary. Cooney lost to Flowers in a general election landslide.
Eisenhut said he was disappointed with Flowers' performance as sheriff after supporting his candidacy in 2020.
"It's time for something different, something better," Eisenhut said in an earlier interview .
Longtime County Commissioner Joe Flescher agrees, which is why the former New York City police officer and county deputy said he was still mulling a run for sheriff "because at this juncture, I'm still very much concerned about the fate of the agency, and I'm not optimistic about the options currently available."