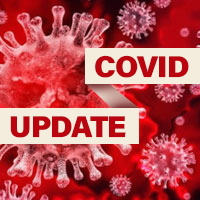 Few issues here as Vero adjusts to post-Covid world
STORY BY LISA ZAHNER (Week of May 11, 2023)

The federal Covid Public Health Emergency which was first declared on Jan. 21, 2020, and renewed 13 times was set to end today, but for most island residents the transition back to a more normal time should be pretty seamless – except for COVID-19 testing.
The free supplies of at-home test kits through Medicare Part B are a now a thing of the past, and Medicare recipients may have copays on Covid tests administered by a lab or pharmacy, but the Centers for Disease Control and Prevention keeps a database of vendors offering free covid testing on its website.
The emergency permitted the federal government to pre-order and purchase millions of doses of vaccine and medication with taxpayer funds, and to require insurance companies to cover certain testing, vaccines and treatments.
For now, the CDC says, COVID-19 vaccines will remain free to adults and children, but the provider who administers the vaccine may charge for an office visit to get the vaccine, and there may be a copay associated with that visit.
If a patient tests positive for Covid, there is still a limited number of doses of the Paxlovid drug that the federal government has already purchased, so the CDC says that drug "will remain free while supplies last."
After that, unless that program is extended, Paxlovid will be like any other drug for any other condition – subject to the terms of the patient's health insurance prescription plan.
The biggest change upon expiration of the Public Health Emergency will be how and when data about Covid is collected and reported. The emergency declaration gave the CDC the power to demand timely data directly from state and local public health departments and laboratories.
Going forward, data on Covid will be reported similarly to the way influenza is tracked. Certain county-level data will no longer be available, and the CDC says it will gather what it can from various agencies which collect data on reportable diseases, but that already, some states have been failing to report or reporting old or spotty data.
There have been multiple weeks when the CDC Data Tracker shows no reported data from Florida on new infections and hospitalizations. As we go to press, the Florida Department of Health last reported on Covid cases, hospitalizations and deaths on April 28, nearly two weeks ago.
Covid hospitalizations will still be tracked and reported, but not in the streamlined way the CDC has been collecting the data during the Public Health Emergency, and likely not on a county-by-county basis. The CDC will now acquire this information from other agencies that collect vast amounts of statistical data on hospitalizations for treatment of various illnesses.
In the final days of the emergency, Cleveland Clinic Indian River Hospital – which has been exceptionally responsive and transparent in providing weekly, real-time hospitalization numbers – had an encouragingly low number of Covid-positive patients in its care. "This Monday morning, we have two patients in-house with COVID. One of the two patients is in the ICU," Cleveland Clinic spokesperson Arlene Allen-Fletcher said.
Covid deaths will now be reported as a percentage of the total deaths by all causes like Influenza and Coronary Artery Disease.
The data relevant to Indian River County and our island readers will likely be dated, obscured, unreliable or unavailable. Based upon that reality, this will be the final Vero Beach 32963 weekly Covid situation report that we will publish.
However, we will continue to monitor whatever data is still compiled and reported by state and federal agencies, and should an uptick or trend warrant reporting, we will share it with readers. When new COVID-19 vaccine booster formulations are approved and available, our readers will be informed.