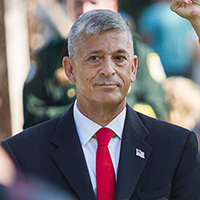 Flescher not high on sheriff's field, but won't join race
STORY BY RAY MCNULTY (Week of May 11, 2023)
Photo of longtime County Commissioner Joe Flescher.

Longtime County Commissioner Joe Flescher said last week he still doesn't believe any of the current candidates for sheriff – including incumbent Eric Flowers, who hasn't yet filed to run but has said he will seek re-election – possess the attributes needed to successfully lead the 500-member agency.
But he will not enter the race.
"After much contemplation, I will not be a candidate for sheriff in 2024," Flescher said Saturday in a phone interview. "It was a very tough call for me because of my deep concerns about the leadership, management and direction of Sheriff's Office, as well as the men and women who serve in the agency and the community they work to keep safe.
"I believe I have the tools required to do the job," he added. "However, given the great challenges confronting the county, I feel the citizens of this community are best-served by me continuing on my current path and working for them in the office they've entrusted to me.
"My place is here."
Flescher, who was elected to a fifth term as commissioner last year, made the decision to not run for sheriff last weekend, after wrestling with the possibility for more than a month.
In fact, the 64-year-old former New York City cop and local sheriff's deputy drove to the county's Supervisor of Elections Office weeks ago to pick up the required paperwork, which he carried around in his briefcase and never filed.
But after waking up in the wee hours of Saturday morning – his mind racing as the mental tug-o-war he had endured for weeks disrupted another night's sleep – Flescher knew he needed to put an end to the exhausting inner turmoil and decide, if only for his own well-being.
So he did.
"I struggled with this decision because so many people have been so overwhelmingly supportive, encouraging me to step into that arena," Flescher said. "And because of my past involvement with the Sheriff's Office, I have a passion for the agency, which plays such an important role in our community.
"I know how effective and efficient our Sheriff's Office can be with a competent and trustworthy person at the top," he added, "then I see where the agency is now and what our options are, and I don't believe we have a viable candidate.
"Just because you're a good cop doesn't mean you possess the tools necessary to manage an agency."
Three candidates have already filed: Fellsmere Police Chief Keith Touchberry and Sheriff's Captain Milo Thornton, both Republicans, and former bank executive Deborah Cooney, who is running with no party affiliation.
Touchberry was the runner-up to Flowers in the COVID-impacted 2020 Republican primary, and Cooney lost the general election in a landslide. This is Thornton's first venture into politics.
Flowers, meanwhile, has given no indication publicly as to when he will file to run.
Retired federal agent Jim Eisenhut, a Vero Beach High School graduate and former sheriff's deputy who went on to spend 20 years with the U.S. State Department's Diplomatic Security Service, told this newspaper last month that he was seriously considering a run for sheriff next year.
A week later, however – after saying several recently retired members of Flowers' command staff and other current deputies had "reached out" to him and offered to support his campaign – Eisenhut decided to pursue a business opportunity instead.
Flescher said he was "surprised and disappointed" when Eisenhut told him he wouldn't run.
"I was very hopeful when Jim announced he was going to run, because I felt he was a viable option," Flescher said, adding that he worked with Eisenhut when both were deputies here.
"When he told me he had reconsidered, I felt it was a loss, because I knew what he would've brought to the agency," he added. "But I respect his decision."
Flescher said he remains optimistic that another candidate – "someone who wants the job because they have the credentials and experience to address the problems plaguing the Sheriff's Office and work in the community's best interests, not for self-serving reasons" – will get into the race.
"It's not too late," he added.
Deryl Loar, who served three terms as sheriff before winning a County Commission seat last year, disagreed. He said he doesn't expect to see anyone else other than Flowers filing to run, mostly because the costs of running a campaign can be prohibitive.
"It's probably going to remain a three-man race," Loar said, referring to the Republican primary that almost certainly will decide who becomes the county's next sheriff.
Loar agreed with Flescher that the county is facing daunting challenges, particularly those associated with growth, the environment and the economy – issues that will require commissioners to make difficult and pivotal decisions.
"I have some concerns about the economy, which could look a lot different by the end of the year," Loar said. "With some of the budget requests we're getting, and the county's expenses increasing, we've got a lot of work to do as a commission.
"So I can understand why Joe made that decision."
Flescher said he'll rely on the experience he gained over the past 17 years as a commissioner to guide him.
"Institutional knowledge is valuable," he said. "If I had decided to run for sheriff, the commission would lose that institutional knowledge. That's what's disappearing at the Sheriff's Office."