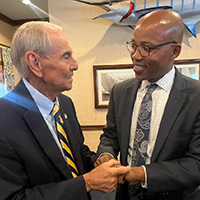 Islanders helping fill coffers of sheriff candidate Thornton
STORY BY RAY MCNULTY (Week of May 18, 2023)
Photo: Milo Thornton chats with Moorings resident Dr. Raymond Della Porta Sr.

Nearly half of the $127,275 raised in April by political newcomer Milo Thornton for his 2024 campaign for sheriff came from island contributors.
More is on the way.
According to a news release issued by Thornton's campaign, the 45-year-old sheriff's captain had collected nearly $36,000 through the first five days of this month – and that was before he attended a fundraiser at the Quail Valley River Club last week.
The fundraiser was his second at the island-based country club since he launched his campaign on April 6. Other well-attended fundraisers previously were held at Windsor Club and the Central Beach waterfront home of businessman Hans Kraaz.
"A lot of people on the island were expressing interest in my campaign, but they wanted to wait and see if I was going to get out there and do the work necessary to earn their support," Thornton said last weekend.
"They wanted to meet me, hear what I had to say, and see what they'd be investing in," he added. "They wanted to make sure the candidate wasn't going to just sit back and let somebody else do all the heavy lifting.
"They've seen that nobody is going to outwork me – that I'm committed to this race and I'm going to deliver on my promises – and I'm extremely grateful for both the opportunity to meet with them and the support they've given to my campaign early on."
Certainly, the impact of the island money has been significant, if not pivotal.
The other candidate vying to become the Republican nominee for sheriff is Fellsmere Police Chief Keith Touchberry, whose campaign has raised just under $55,000 since he filed to run in November.
Of that amount, however, only $7,900 has come from the 32963 ZIP code.
Also expected to enter the Republican race is incumbent Eric Flowers, who, as of Monday, hadn't yet filed to run but has said he will seek re-election. He spent $234,445 during his COVID-impacted 2020 campaign.
Flowers, who hasn't responded to Vero Beach 32963's interview requests since taking office in January 2021, is quoted in Russ Lemmon's LemmonLines publication this week as saying he has "never, ever thought about not running" and plans to announce his candidacy on June. 1.
"There are supporters begging to give me checks," Flowers told Lemmon, adding that he has not lost any "big supporters" as the result of this newspaper's coverage of his travails this past year.
Thornton declined to comment on his boss' impending entry into the race.
In response to a request for comment on Flower's plan to seek re-election and Thornton's impressive fundraising efforts, Touchberry sent an email stating he was "not available" because he was attending the FBI National Command Course in Virginia.
Touchberry was the runner-up to Flowers in the 2020 Republican primary.
Deborah Cooney, a former bank executive who lost to Flowers in a landslide in the 2020 general election, again is running with no party affiliation. As of April 30, the end of the most recent reporting period, the county Supervisor of Elections' website showed that her campaign had raised only $5,400 and she already had spent more than $4,000 of that amount.
Actually, though, Cooney loaned her campaign $5,000 in December 2020, shortly after filing to run again, and her expenditures were repayments of that loan – $1,000 in April 2021, $1,000 in May 2021, and $2,000 this past March – to herself.
Thornton, meanwhile, established himself as the early frontrunner, having raised more than $160,000 in the first 30 days of his campaign. His six-figure haul in April far exceeded the first-month fundraising totals of the winners of the last two sheriff's races: Deryl Loar ($15,200 in 2016) and Flowers ($33,800 in 2020).
In addition to the $163,175 raised by Thornton's campaign through May 5, supporters had donated more than $50,000 in monetary ($37,000) and in-kind ($14,700) contributions to the "Friends of Milo Thornton" political action committee.
That gives him a war chest in excess of $200,000, but he said he's just getting started.
"This campaign is not anywhere near over," Thornton said. "I'm very appreciative of the support and contributions I've received, but it's my job to make sure the support and contributions continue through the coming months."
And not only on the island.
"The people on the island have been very generous, and I hope that continues, but I'm also receiving a lot of support on the mainland," Thornton said. "I hope that will continue, too."