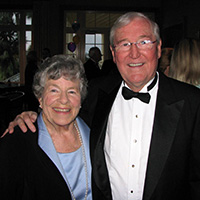 Music community mourns Jean McMullan
STORY BY MARY SCHENKEL (Week of May 25, 2023)
Archive photo of Jean and Andrew McMullan.

Vero's musical community lost one of its champions with the passing of Jean McMullan, co-founder of the Atlantic Classical Orchestra, who died May 12 at her home in Asheville, N.C.
McMullan, who would have celebrated her 97th birthday in June, visited Vero in April to enjoy the final Masterworks Concert of the 33rd season and made a brief appearance onstage to a standing ovation.
She was predeceased in January 2019 by husband Andrew McMullan, an accomplished musician who until 2004 conducted the orchestra the couple founded from their Oceangate condominium in Vero Beach. 
Possessed of her own musical acumen, combined with savvy leadership skills, Jean McMullan held bachelor's and master's degrees in education and music from the University of Connecticut and played for 16 years in the Portland Symphony in Maine.
As a result of their enthusiasm, careful nurturing and the support of donors and friends, the ACO has enthralled audiences for more than three decades. It is now the oldest continuously performing professional orchestra on the Treasure Coast.
"I was so proud of my Andy and what he created. I'm thankful that we had wonderful friends to support his vision in bringing a topnotch professional orchestra to the Treasure Coast. I am still in awe that the ACO was able to survive the pandemic and is now back stronger than ever," said McMullan at the April concert at the Community Church of Vero Beach.
In her honor, the Jean McMullan Artist Fund has been established at the Atlantic Classical Orchestra  to support "the music and musicians that set the standard for classical music in our area."