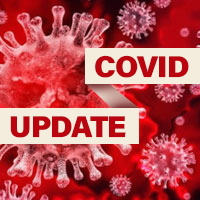 New COVID cases hit lowest number since March 2020
STORY BY LISA ZAHNER (Week of May 4, 2023)

With just one week remaining of the federal COVID-19 health emergency, the number of new weekly infections locally has plummeted to 27 cases, the lowest number since March 2020, and Florida as a whole has also seen steady declines in new cases since a one-week bump after spring break.
That number does not include positive results on popular at-home, rapid Covid tests, as those cases are not reported to the Florida Department of Health unless the infected person seeks medical care.
What's strange about the low number of 27 cases is that according to the Centers for Disease Control and Prevention's Covid Data Tracker, seven people were hospitalized here with COVID-19 illness during the same week that only 27 people tested positive. So either a great many people are testing positive on home test kits and never seeking medical care, or the small number of people who are testing positive tend to be getting much sicker and ending up in a hospital Emergency Department.
On Monday, Cleveland Clinic Indian River Hospital spokesperson Erin Miller said "we have seven COVID patients today, none of which are in ICU."
Apart from Covid cases, the flu seems to be rounding out the season still fighting. The percentage of people seeking medical care for suspected influenza who are testing positive has been increasing the past few weeks in South Florida, the Treasure Coast and the greater Orlando area.
Around the world, the last of the Covid travel restrictions seem to be lifting just in time for the summer tourist season. Japan ended its COVID-19 border controls for arrivals on Saturday, and on Tuesday will downgrade Covid to "a level on par with seasonal influenza," the Kyodo Press reported, "paving the way for full normalization of social and economic activities."
All this happens while Southeast Asia braces for a "ninth wave" of Covid infections due to the highly contagious virus subvariants that are currently circulating, including the XBB.1.5 variant, which closer to home accounted for an estimated 68.8 percent of cases here in the United States for the week ending April 29, according to the CDC.
Amid public health officials' warnings of yet another spike, the Japanese government's strategy is to mitigate the impact on those most vulnerable with booster vaccinations.
"We need to continue to take measures for the elderly, who are at high risk of dying (from the virus), and those with underlying diseases," said the head of Japan's health ministry's Covid advisory panel.
Here at home, people age 65 and older and those with chronic health conditions are being encouraged to get a fourth booster shot (a sixth dose of vaccine for those who opted for the two-dose Pfizer or Moderna regimen).
By this fall, the vaccine makers expect to have a new booster shot available that targets emerging virus variants. The CDC currently reports three major virus variants, with five more in the mix that are infecting fewer than 5 percent of those who test positive. The CDC works with local utilities to detect the prevalence of virus variants in wastewater systems.