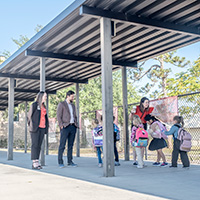 'Partner with a Principal': Residents educated on school workings
STORY BY CASEY STAVENHAGEN (Week of May 4, 2023)
Photo: Amie Rutherford and Matt Tanner shadowing Vice Principal Sarah Van Brimmer as she greets kids on their way into school.

The county school district's new 'Partner with a Principal' program puts prominent local residents in the hallways for a day with a public school principal to build understanding in the community about educators and students.
Superintendent Dr. David Moore witnessed a similar program when he worked in Miami-Dade County Public Schools, so he recommended trying it here.
"The goal is really for our community to gain a deeper understanding of how schools operate and the challenges that our principals are facing," said school district grant writer Amie Rutherford. "They learn about the various programs and initiatives that are being implemented, just so that we can really have an appreciation for the work that they do and really provide us with valuable feedback and insight that can help improve our schools."
Sebastian Elementary became the first of six schools to participate in early April, pairing Ballet Vero Beach Artistic Director/CEO Adam Schnell with Principal Letitia Whitfield. Kyleigh Savoie, a community health advocate with the Substance-Abuse Free Indian River Coalition, partnered with Wabasso School, David Dyer with Rosewood Magnet, former Vero mayor Harry Howle with Gifford Middle School, Matt Tanner with Vero Beach Elementary, and Vero Beach Mayor John Cotugno with Citrus Elementary.
"I don't think people knew how hands-on the principal's job really is," Rutherford said, adding that Rosewood Magnet Principal Adam Faust "knows the name of almost every student. To be a principal in this district is just so hands-on, and you just show up with your running shoes on, ready to go."
Principals volunteered to be shadowed, and the district's director of instructional innovation, Cindy Emerson, matched participants' interests and expertise with the schools' particular needs. For example, Tanner, who serves as executive director of United Against Poverty, was paired with a school that has one of the highest levels of poverty in the district. Schnell enjoys an ongoing working relationship with Sebastian.
"We wanted to make sure everybody that was participating wanted to be a part of this," Emerson said. "We wanted it to be a smaller group to start off, but we anticipate growing next year."
In Schnell's day at Sebastian, he was able to sit in on two parent meetings, watched several third-grade classroom lessons and participated in the school's award day. Schnell said the program helps people shift their perspectives on public schooling.
"I told them I didn't want them to sugarcoat anything for me. I was prepared for what I was going to see, but also it was more than I thought I was going to get to see," Schnell said. "I have been a teacher of dance for over 25 years now; if there was a way to get every citizen of this county to walk into a public school for five minutes, you really develop an empathy for the kids, the parents, the classroom teachers, the support staff and even the principals."
Tanner had joked that the experience was his first in an elementary school since he was in one himself. In his day, Tanner said he was impressed by the ways schools have largely evolved – through technology integration and heightened collaboration – but how some things have stayed the same. 
"I basically walked away being like, 'I would be really comfortable if both of my sons went here,'" Tanner said. "My wife and I are relative newbies to the county, but I was thinking that, 'If this is the standard for Indian River County, we moved to the right place.'"
Howle, former mayor and current Gottzmann Insurance Group partner, also noted how many things have stayed the same at Gifford Middle.
"I don't know if this statistic is still good, but when I was in office we were paying like 52 percent of our taxes to schools," Howle said. "The school that I went to 33 years ago, it looked worse today than it did back then – granted it is older. Nothing, in my view, has been done to aesthetically beautify this place. It seems simple, but I just feel like a more pleasing environment would help some students."
Howle, while commending the "upper echelon" teachers and staff he observed during his day in middle school, said he was struck by the appearance of the school. He added that, while many teachers do their utmost with the resources available, a certain percentage are "on autopilot."
"It's clear to me that funds are being misappropriated," Howle said. "I don't know if they're being misappropriated to pay, or if it's being spent on government contracts irresponsibly. The school board should have enough money to keep every one of our schools looking top-notch and provide teachers, other educators, principals with the tools they need to help these kids … I commend all those people for the work that they do, especially the ones who try. And those were the ones I was dealing with."
In just a 40-minute segment of the day at Vero Beach Elementary, the school's acting principal Sarah Van Brimmer had guided Tanner from one side of the building to the other, observing teacher's curriculum-planning meetings, a band class and a guided STEM project. At each step along the way, Van Brimmer greeted students and staff while detailing the workings of the school.
One of the moments in Schnell's day that he said was a highlight of the experience was when he was allowed to sit between two students he had worked with previously as a part of Ballet Vero Beach's 'Nutcracker' project. One of the students was ultimately not able to attend the culminating performance, so Schnell said the face time with the student was very special.
"To check in and see how they are doing – that is something that I cannot say what that means to me," Schnell said. "Sometimes as an educator, it's like a relationship. You have the ones that got away and you wonder about them and you worry about them. That made the enormity of the problems that educators deal with at every single school feel like, 'We know what to do. We just need to let the experts do it and support them.'"