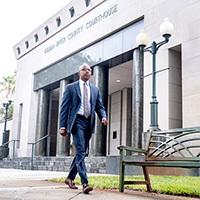 Thornton starts sheriff race with record war chest
STORY BY RAY MCNULTY (Week of May 11, 2023)
Photo of Milo Thornton.

Political newcomer Milo Thornton has established himself as the early frontrunner in the 2024 race for sheriff, having raised more than $160,000 in the first 30 days of his campaign.
Never in the county's 98-year history has a candidate for any local office collected more in contributions in the first month of candidacy.
In addition to the $163,175 raised by Thornton's campaign through May 5, supporters have donated more than $50,000 in monetary ($37,000) and in-kind (14,700) contributions to the "Friends of Milo Thornton" political action committee.
That gives him a war chest in excess of $200,000.
"The message is clear: I have the support of our community, and that support continues to grow," Thornton said. "People are approaching me and asking if they can host events, because they want to hear what I have to say.
"We have multiple events scheduled throughout the summer, and there are people telling me they've been waiting on this for years," he added. "So I'm deeply grateful, honored and humbled by the support and affection I've received, and I'm committed to giving our community the responsive, professionally run  Sheriff's Office it deserves, one it can be proud of.
"What we've done so far with our fundraising speaks volumes – it's never been done before – but we're just getting started."
Thornton's six-figure haul far exceeded the first-month fundraising totals of the winners of the last two sheriff's races: Deryl Loar ($15,200 in 2016) and Eric Flowers ($33,800 in 2020).
It also dwarfs the $11,645 raised by Fellsmere Police Chief Keith Touchberry in November, the first month of his campaign. According to the county Supervisor of Elections' website, Touchberry – the runner-up to Flowers in the 2020 Republican primary – had collected a total of $50,419 as of Monday.
Flowers, who hasn't yet filed to run but said last year he will seek re-election, spent $234,445 during his COVID-impacted, 2020 campaign.
Also in the race is Deborah Cooney, a former bank executive who lost to Flowers in a landslide in the 2020 general election and again is running with no party affiliation. As of Monday, her campaign had raised only $5,400, and she already had spent more than $4,000 of that amount.
Thornton's campaign issued a news release this week, when he was scheduled to file his first financial report with the Supervisor of Elections Office, announcing that the 45-year-old sheriff's captain raised $127,275 last month and $35,900 through the first five days of May.
He filed to become a candidate on April 6.
Loar, who steadily promoted Thornton through the ranks during his 12 years as sheriff, predicted the winning candidate would spend upwards of $250,000 on his primary and general-election campaigns.
He said sheriff's races are usually more costly than other local campaigns because they're held during presidential-election years, which forces candidates for the most powerful office in the county to compete for advertising and pay higher rates.
So money matters.
"If Milo puts up anything in the neighborhood of $50,000 or $60,000 in April, that's impressive," Loar said last week, before Thornton filed his campaign finance report. "If he puts up $100,000? He's a force to be reckoned with."
Thornton, though, said he's taking nothing for granted.
He said he appreciates every contribution, large or small, because he was "raised on food stamps" and "knows the value of a dollar," adding, "When somebody donates their hard-earned money to me, they're making a statement, telling me they believe in me and my vision for moving the Sheriff's Office forward."
Running to unseat his boss, Thornton said he and Flowers have not discussed the race and he doesn't know when the first-term incumbent will file the required paperwork to seek re-election.
Thornton said he has received "a lot of encouragement" from deputies, but he will not accept political contributions from any of them – because he didn't want to be subject to retaliation.
He also vowed to run a "positive campaign" and not respond to the mudslinging that often targets early frontrunners.
"I can't predict how someone else is going to react to what my team and I have done, but my team and I are taking this campaign very seriously and I don't want my supporters and friends to respond to foolishness," Thornton said. "I'm not going to respond to it.
"When I was 12 years old, my mother told me: If you see two people arguing from a distance, you can't tell who's the fool."
Thornton has spent most of the past 25 years at the Sheriff's Office, rising through the ranks while serving or overseeing deputies in every area of the agency – from corrections to community affairs, from road patrol to investigations, from SWAT to special ops.
In fact, Thornton was the first Black deputy in the Sheriff's Office to be promoted to captain, then major and then deputy chief, which made him the No. 3-ranking member of the agency.
More noteworthy, though, was that he became the highest-ranking Black law enforcement in county history.
He has earned a bachelor's degree in criminal justice from Indian River State College, served as an instructor at the Florida Law Enforcement Training Academy in Fort Pierce for the past 19 years, and was the Sheriff's Office's "Law Enforcement Officer of the Year" in 2012.
Appointed by Gov. Ron DeSantis in 2021, Thornton sits on IRSC's board of trustees – one of several local boards on which he has served. He also has coached football at Vero Beach High School.
His current assignment puts him in charge of the Sheriff's Office's school security division.
"We are stronger when we come together," Thonrton said in his campaign's news release. "My promise to the people is to run an outstanding Sheriff's Office with highly professional leadership and to keep the safety of our residents and businesses as top priority.
"We won't tolerate the violence and unrest we see in other parts of this country," he added. "Our quality of life here is second to none, and I know we can make it even better."