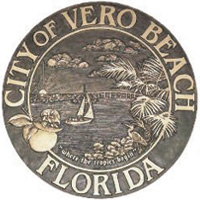 Who wants to be Vero's finance director?
STORY BY RAY MCNULTY (Week of May 18, 2023)

The job pays well, offers attractive benefits and is located in one of Florida's most desirable cities.
So why has finding Vero Beach's next finance director been such a struggle?
"Cindy Lawson is going to be very hard to replace," City Manager Monte Falls said last week, as he continued his search for the right candidate to succeed Lawson, who retired last month after 12 years on the job.
Lawson's successor will work with Falls, a project manager and various consultants and contractors to accomplish two of the biggest projects Vero Beach has ever undertaken – the Three Corners development, and the construction of a state-of-the-art water reclamation facility at the Vero Beach Regional Airport.
Those two projects could amount to expenditure of more than $200 million.
Falls said he had interviewed three applicants – one from Anchorage, Alaska; and two from Florida, one from Lake Worth; and one from Port St. Lucie – and two others canceled their scheduled sessions.
The city is still advertising for the position, he added, and no decision is imminent.
Falls said City Comptroller Kelley Brost, who worked closely with Lawson and was second-in-command in the finance department, has taken on the director's duties an interim basis.
"Kelley probably would've been offered Cindy's job, but she has expressed to us she doesn't want to be the permanent finance director," Falls said. "It's an important position and we need to fill it sooner rather than later, and we need to fill it with the right person.
"But Kelley is very capable and we have someone here to sign all the documents."
Falls said the city had received 10 applications, but, as last week ended, only a handful of the candidates possessed the qualifications he is seeking in a finance director.
Accounting experience isn't enough.
"Government finance and private finance are very different animals," Falls said. "It's a big advantage to have some government experience. I'm not saying it's necessary, but it's certainly helpful."
Working in a local government requires responding to elected officials, interacting with citizens and addressing issues in public forums, Falls said, adding that Lawson was comfortable performing in each those roles. Prior to joining the Vero staff in 2011, Lawson served as longtime finance director for the Village of Islamorada in the Florida Keys.
"She knew her material," he continued, "and when you know your material, you're confident talking about it."
According to Vero Beach's advertisement, the new director will be paid $105,000 to $115,000 annually to manage the overall operations of the Finance Department. Those duties include planning, organizing and directing all of the city's financial and accounting functions.