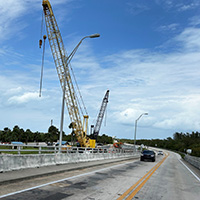 Work starts (3 years late) on bridge at south end of island
STORY BY GEORGE ANDREASSI (Week of May 11, 2023)

After nearly three years of delays and $50 million in cost overruns, construction started May 1 on a Bridge Replacement Project at the southern tip of our barrier island which will upgrade access for residents seeking to cross over to the mainland in Fort Pierce.
Florida Department of Transportation anticipates completing the $111.5 million project in late 2027, replacing a drawbridge built in 1963 with a new high-rise bridge, said Samantha Kayser, a spokeswoman for the project.
An average of 10,940 vehicles per day traverse A1A at the southern end of the island, according to a Fall 2022 St. Lucie County traffic report. Among them are hundreds of homeowners who live on the island both in St. Lucie County and a dozen miles to the north in unincorporated Indian River County, Vero Beach, and Indian River Shores.
The new bridge will have an 85-foot vertical clearance and a 125-foot-wide channel, Kayser said. The old drawbridge has a 25-foot clearance when closed and a 90-foot-wide channel.
The new bridge will be 64-feet, 3-inches wide with a 12-foot travel lane and an 8-foot shoulder and bike lane in each direction, Kayser said.  The old drawbridge has an 11-foot travel lane and a 4-foot-wide shoulder in each direction and a five-foot-wide sidewalk on the north side.
FDOT had announced plans in January 2017 to start construction in August 2020 at an estimated cost of $61 million, but had difficulty acquiring property, designing access roads to nearby businesses and obtaining permits.
FDOT contractor Vecillio & Grogan Inc., of Beckley, West Virginia, has stationed two large construction cranes just north of the eastern landing of the 60-year-old bridge.
"We'll be constructing portions of the new bridge next to the old bridge," Kayser told St. Lucie County commissioners last Tuesday.  "The existing bridge will be demolished in Phase 4 after the completion of the new bridge."
Motorists will be warned in advance when FDOT plans to close the southern end of A1A for the installation of beams on the new bridge, Kayser said. Motorists will be detoured to the 17th Street Causeway in Vero Beach to travel to and from the island.
A1A will also be closed east of U.S. 1 during Phase 3 of the project, while the new bridge is being built over Old Dixie Highway and the Florida East Coast Railway crossing, Kayser said.
In addition, motorists traveling on A1A may be delayed by night-time lane closures between 9 p.m. to 6 a.m., as needed for construction, Kayser said.
Otherwise, FDOT intends to keep all lanes open on the drawbridge until the new 1.2-mile-long bridge is completed, Kayser said. The contract time is 1,357 days, not including holidays and weather-related delays.
"Marine traffic will be maintained and emergency vehicle access will be maintained at all times," Kayser said. "Access to properties will be maintained at all times. The project team will coordinate with businesses if temporary driveway closures are needed."
A 12-foot-wide segment of the East Coast Greenway will be built on the north side of the new bridge and an 8-foot sidewalk on the south side, Kayser said.