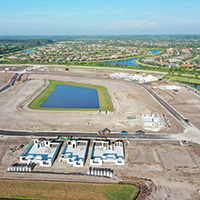 Amid still-hot housing boom, DiVosta launches 4th subdivision
STORY BY STEVEN M. THOMAS (Week of September 21, 2023)

With homebuilder confidence high in Indian River County, DiVosta is moving forward with a fourth subdivision and relocating a group of key employees here from Broward and Palm Beach counties to help manage its expanding operations.
"The new people will include sales, construction, and customer service employees," said Brent Baker, Southeast Division President for PulteGroup, DiVosta's parent company.
"Some will be new hires and some will be transfers. The additional manpower flows with our land investments here. By next year, we will have $75 million invested in Indian River County in land and infrastructure."
DiVosta has three large subdivisions underway in Indian River County  – Harbor Isle along the Wabasso Causeway, The Preserve at Waterway Village, and Costa Pointe across the street from Cleveland Clinic Indian River Hospital.
With the addition of Red Tree Cove, which will include 175 homes near the intersection of Oslo Road and 43rd Avenue, the company is set to add 800 new homes to the county's built environment over the next several years.
"We continue to see strong interest from people in South Florida and all over the country," Baker said. "We are confident of the overall demographics of Indian River County and see a big lack of new home supply due to a shortage of new projects coming to market."
South Florida buyers emerged as a major force in the island luxury market in recent years and something similar is happening now with mainland subdivision homes in Indian River and St. Lucie counties due to lower prices and less congestion on the Treasure Coast compared to Miami, Fort Lauderdale and Palm Beach.
"Let's face it, even in Broward County now, if it's past 3:30, you don't leave your house because the traffic is too crazy," businessman Ted Belloise told WPTV, the CBS station in West Palm Beach, in August. He had just sold his Broward County home to move north.
Prices step down steadily as buyers head north on A1A or I-95, according to online real estate information and sales giant Redfin.
Miami-Dade County is the top of the financial staircase, with a median sold price for single-family homes in August of $525,000. That compares with $463,000 in Palm Beach County, $385,000 in St. Lucie County and $360,000 in Indian River County.
A longer perspective shows a similar hierarchy. Rocket Homes, an innovative online real estate information, sales and mortgage company, reports median prices monthly based on the prior 12 months.
In August the company reported a median sold price in Miami-Dade of $499,000, based on all sales since Sept. 1, 2022. Descending to the north, comparable median prices were $463,000 in Palm Beach County, $460,000 in Martin County, $385,000 in St. Lucie County and $360,000 in Indian River County.
As the pandemic migration flooded Florida with new residents, housing prices soared statewide but nowhere more so than in South Florida. That caused some longtime residents tired of traffic and congestion to sell high in Miami or Fort Lauderdale and buy low in still mostly rural Indian River County.
Adding to the northward flow are pandemic migrants who tried South Florida, then thought again and started considering homes and lifestyles 100 miles up the coast.
Illustrating the trend, the Federal Reserve Bank of St. Louis reported in May that Miami-Dade and Broward counties had net combined outflow of 55,000 residents in 2022, while Indian River and St. Lucie had a combined increase of more than 10,000.
"Data from Florida Atlantic University points to 10-year population growth projections of 20 percent for Martin, St. Lucie and Indian River counties," according to WPTV's report on the surge of people from South Florida moving to the Treasure Coast.
"We will be starting 20 to 25 homes a month across our three [existing] projects," Baker told Vero Beach 32963 last week. Plus what the company builds at its fourth IRC subdivision, Red Tree Cove, once that gets underway.
DiVosta, the luxury brand of PulteGroup, has been building in Indian River County since 2003, when it launched its sprawling Waterway Village project south of 53rd Street.
One of the company's current subdivisions, The Preserve, is the final section of Waterway Village. When complete, the much admired, square-mile-plus enclave will have 1,381 houses and villas, making it the largest residential development in Indian River County.
DiVosta launched The Preserve in 2021 at 43rd Avenue and 53rd Street and quickly sold out the hundred or so homes in the first phase. It is now selling 160 homes in the second phase and has sold 50 while the site is still a bulldozed field, according to the project website.
There are several completed model homes which are used to sell houses in The Preserve, Harbor Isle and Costa Pointe. Homes in The Preserve's final phase, which is also the capstone of Waterway Village, have starting prices that range from about $360,000 for a 1,579-square-foot shared-wall villa to $599,990 for a 2,808-square-foot estate home. Baker said new residents will began moving in next spring and that the community will be complete in "late 2025 or early 2026."
Sensing a growing demand for new homes here, DiVosta branched out beyond Waterway Village in 2021, launching Harbor Isle at U.S. 1 and route 510.
The 270-home community will offer 10 home models with starting prices that range from $471,990 for a 1,405-square-foot, 2-bedroom, 2-bath, 2-car-garage home to $618,000 for a 2,894-square-foot, 4-bedroom, 2.5-bath, 2-car-garage family house.
Model homes will be open at Harbor Isle by the start of season. "The models are done and waiting on final county certifications so they can open to the public in October or November," Baker said, adding that residents will begin moving into new homes in the island-adjacent community next spring or summer.
DiVosta expanded its land portfolio again in 2023, acquiring 78 acres across 37th Street from Cleveland Clinic where it is doing sitework for its 200-home Costa Pointe subdivision. There will be 10 home models to chose from, similar to what the company is offering at Harbor Isle and The Preserve. Prices have not been set but Baker said they would "start in the $400,000s." The development will open for sales next month.
Baker said DiVosta is still working on "entitlements and permitting" at Red Tree Cove, where 170 single-family homes are planned. He expects to close on the 72-acre property in the coming months. The company typically works with land developer partners that get subdivision property entitled and then turn it over to DiVosta when all the approvals are in and it is time for sitework.
Island brokers say a fair number of 32963 residents ready for a housing change have been attracted to DiVosta's Waterway Village over the years by new construction, lower prices, lower insurance costs and the quality of the homes and community.
"They are coming from places like Seagrove and Central Beach where their homes are dated and may be in need of repairs," Compass team leader Scott Reynolds told Vero Beach 32963 when DiVosta launched The Preserve.
Harbor Isle and Costa Pointe, both east of U.S. 1, are likely to attract another wave of island buyers. Red Tree Cove is farther from the island but may still be attractive to 32963 residents in a time of low housing inventory and rising insurance costs for older homes.
"We are very bullish on the Vero market," said Baker. "We have been in Indian River for over 20 years and its clear from our recent investments we intend to be here for another 20. We get that there's high demand for single-family homes, which is our niche, and we are actively looking for more projects."