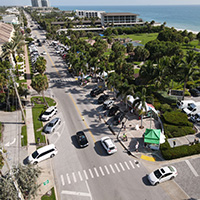 Analyst: Ocean Drive retail market 'one of the great places'
STORY BY RAY MCNULTY (Week of September 21, 2023)

Would it surprise you to hear the Vero Beach market compared to the posh seaside communities of Nantucket, The Hamptons, and Carmel-by-the-Sea?
"You have the coolness of some of the great places in the country," says Robert Gibbs, one of the nation's highest-regarded urban consultants. "You have the demographics and quality of life of those places."
Gibbs called the Ocean Drive retail market "one of the great places," which attracts young families, draws from the entire Vero Beach area and offers a demand for a "whole range of price points for goods and services."
Gibbs analysis found that the island market, which includes Cardinal Drive and extends to the Village Shops in Indian River Shores, could accommodate up to 30 new stores and 15 new restaurants. He also noted there was an "overwhelming demand" for another upscale, gourmet grocery store.
While Gibbs, in a presentation to the Vero City Council last week, focused on revitalizing the downtown, a 1,000-page report he submitted also studied the retail market along Ocean Drive.
As for downtown Vero, can you imagine 45 new stores there?  Thirty new retail shops? Fifteen new restaurants? An 8,000-square-foot, high-quality, neighborhood grocery store?
Gibbs believes the market exists to support all of those new businesses in Vero Beach's downtown area – and that many top retailers would want to come here – if the city invests in the necessary improvements.
In fact, Gibbs said his analysis of the local retail markets revealed the downtown area was "significantly underperforming" and should be "much, much larger than it is."
To attract the retail businesses and restaurants needed to transform downtown Vero into the vibrant destination city leaders desire, Gibbs said the area needs to become more walkable, more architecturally appealing, more spruced up and better decorated.
"You want to enhance the appearance of the area, and artwork is important," Gibbs said. "You might also need stronger architectural codes. … The top retailers want standards."
They also want to do business in walkable downtowns, which have become increasingly popular in the aftermath of the COVID-19 pandemic, he said, and they're especially seeking urban-type settings in downtowns in resort communities in small or midsize cities that have residents with some degree of wealth.
For those reasons, Gibbs believes the foundation for a revitalized downtown in Vero Beach is there, including several existing stores and restaurants and a strong under-served market.
"There are a lot of great stores there," he said. "When we were here, we went into almost every one of them. We had a great time.
"It has all the great things – the courthouse, a school, the library," he added. "It has the right balance of what you would want, surrounded by beautiful neighborhoods. There's even a park.
"It's a great urban place."
He quickly added, however, "There's room for improvement, though."
Gibbs recalled his visit to Vero Beach earlier this year, particularly the time he spent downtown. "We watched people," he said. "They're coming here with their families. They're walking around. They're leaving disappointed because there aren't the things they want."
Asked about the empty storefronts and businesses that have recently left the downtown area, Gibbs could only guess, citing possible problems with leasing, the property owners, city codes and even marketing.
Gibbs, who teaches an urban retail course at Harvard University when he isn't running his Michigan-based consulting firm, offered several suggestions during his presentation.
Among them was the installation of a paid-parking system for spaces in front of stores and restaurants, with free parking available a block or two away.
"Right now, it's hard to park here," Gibbs said. "You need expensive paid parking in front of store, and you can have free parking a little further away. And you really need to get the workers out of (parking spaces on the main roads)."