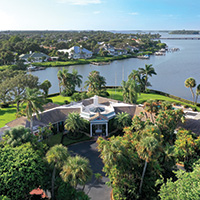 Du Pont mansion becomes Riomar Bay's second $27M listing
STORY BY STEVEN M. THOMAS (Week of September 7, 2023)

An estate in Riomar Bay with nearly 600 feet of river frontage and a classic mid-century home that came on the market last week is making ripples in the real estate world.
It was splashed across the pages of the Wall Street Journal's Mansion Global section last week, where a feature article noted that the 2.2-acre, parklike property "was the longtime home of the late Andrew Edmonds, a direct descendant of E.I. du Pont, who founded the DuPont chemical company in 1802."
Edmund, who lived in the home with his wife Marsha for 40 years and passed away there in January, was a bit of a character who collected, among other things, antique fire engines and V-16 Cadillac convertibles. The couple also "collected" abandoned English mastiffs, taking in 15 of the dogs over the years, providing them with loving care and a substantial, tile-roofed doghouse.
Local interest in the home has been strong, too. Sixty-one agents showed up for the brokers open house on Thursday, according to listing agent Cindy O'Dare, who leads the O'Dare Boga Dobbs Group at ONE Sotheby's International Realty.
"Ninety percent of the agents were wowed by the place and thought it should be renovated instead of torn down," O'Dare told Vero Beach 32963. "Several people said it reminds them of a Slim Aarons photograph and three agents have buyers they want to bring by at some point. Right now, most of the big buyers aren't in town. A lot of them are on their yachts in the Med!" O'Dare said she's also had multiple inquiries from other sources since going live with the listing last Tuesday.
While cultivating local interest, O'Dare said her main sales strategy is focused on getting the property out to "a very high strata" of luxury buyers around the country and the world.
"A buyer for a property like this could be someone who has never heard of Vero Beach before but is so taken with the property and what they see when they get here, that they pull the trigger," she said.
The property occupies two adjoining lots at 510 and 512 River Dr. in Riomar Bay. It has an impressive wrought iron entry gate, two houses, botanical garden-level landscaping, an eight-foot-deep pool with diving board overlooking the river, a 594-foot seawall, a concrete dock and garage space for 12 cars – a major selling point in a time when garage space is coveted by luxury buyers and 8-figure garage-centric estates are being built across the country from Malibu to the Hamptons.
"The garage space is amazing and I think it has the most water frontage of any home in Vero," said O'Dare. "It is the largest residential property anywhere in Riomar."
Only a block off of A1A, between the bridges in Central Beach, the property somehow takes you into another world. There is a strong sense of arrival passing through the heavy, stone-columned gate set in a high hedge that shields the house from street view. The driveway curves into a vast front motor court, which is surrounded by groves of slender palm trees reminiscent of Hawaii and perfectly manicured shrubbery.
The sense of arrival continues, passing through the double front doors of the main house into an octagonal foyer with a tropical pool and garden placed beneath a domed skylight.
Andrew Edmond served as a U.S. Navy Lieutenant and was an engineer by profession, and the house was meticulously maintained and upgraded over the years without eclipsing its bold 1960s style. "My dad was very interested in electronics and anything that could make things more convenient," said Andrew Edmond Jr., a Delaware resident who was his father's only child. "The house has a lot of gadgets!"
The gadgets include a gauge in the kitchen that shows the water pressure throughout the house, a copper-top bar with a sink that dispenses whiskey, rum, gin and other types of liquor from its faucet, depending on which button you push beside the sink, and an oversized back-up generator placed below ground and fueled by a 1,500-gallon diesel tank that could power the entire compound for days if Florida Power & Light ever falters.
"It's more like something you would see at a commercial building than a private home," said Allen Coler, a former John's Island security service lieutenant who has been property manager at the estate for the past three years. "Behind that door over there is a back-up, back-up generator just in case the first one should ever fail."
Gadgets and heavy equipment aside the house radiates a bright, refined but comfortable style, with delicate, detailed architecture, fine materials and charming finishes that justify the comparison to images created by Slim Aarons, who "captured a golden age of wealth, privilege, beauty and leisure that occurred alongside – but quite separate from – the cultural and political backdrop of the second half of the Twentieth Century . . . [portraying] high society, aristocracy, authors, artists and business icons . . . and their milieu," according to Gettyimages.com.
"Our interior photos of home look like images from House Beautiful in the 1960s," said O'Dare. "It is a gorgeous property."
The main house, which was built in the early 1960s and substantially remodeled when Andrew and Marsha Edmonds bought it in the 1980s, is 6,245 square feet under air and 8,754 under roof. The second house, built by the couple in 1985, is 3,806 square feet under air and 6,766 under roof. Combined, the two houses include 5 bedrooms, 6 full baths, 2 half-baths in 10,051 square feet of air-conditioned space – plus all those oversized garage bays.
With older houses on such an incredible waterfront lot in one of the most desirable locations on the island, the property presents several possibilities to potential buyers, according to O'Dare.
A preservation-minded buyer or someone with a rare car collection could come in and modernize the property while retaining its architectural and aesthetic qualities, mooring a wooden Chris-Craft at the concrete dock. Or someone not entranced by the Kennedy-era glamour of the main house could tear down one or both of the existing structures and build a fabulous new home. A third possibility would be to fix up the second house or build a new house on that part of property and sell it off for $10 million or so while retaining a majority of the acreage and the main house.
With all those variables and the uniqueness of the property in terms of size and location, O'Dare said it would ordinarily be a challenge to come up with an accurate listing price.
In this case, though, she had the good fortune of a virtual doppelgänger of a comp less than a half a mile away in the same subdivision that made pricing the Edmonds estate much easier.
In December 2021, Charlotte Terry of AMAC Alex MacWilliam Inc. listed the house at 500 Bay Dr. in Riomar Bay for $27 million, by far the highest listing price ever for a house on the river in Vero, and in May 2022 Cathy Curley at Dale Sorensen Real Estate sold it for $20 million.
The house at 500 Bay Dr. is a little larger than the Edmunds house, while the Edmonds property has more water frontage and acreage, but overall they are strikingly similar properties and O'Dare said it would have been "real estate malpractice," not to offer the Edmunds house at a price close to what the Bay Drive comp was listed for.
If the home sells for over $20 million it will set a new record for a riverfront sale on the barrier island.
Andrew Edmonds Jr. said his parents bought their paradisical property in 1982 after a house hunting process familiar to many from the northeast.
The couple, who married in Key Largo in 1980, "were living in Massachusetts at time and decided that they really didn't love the cold winters," Andrew Edmunds Jr. said.
On the hunt for a Florida home, "they started in Miami and looked in Palm Beach but couldn't find what they wanted. Eventually, they worked their way up the coast to Vero Beach and, as family legend has it, they fell in love with Vero the first day and knew they wanted to live here.
"My father should have worked for the Chamber of Commerce," Edmunds Jr. continued. "He told everyone he knew how incredible Vero Beach was. ... He wanted everyone to know how lucky they were to live here and said that anyone who lived anyplace else was a fool!"