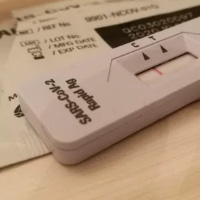 Free COVID home test kits once again available by mail
STORY BY LISA ZAHNER (Week of September 28, 2023)

As local island residents begin rolling up their sleeves a sixth time to get the latest Pfizer or Moderna COVID-19 booster shot, the federal government announced a re-launch this week of the free Covid home test kit program.
Free tests delivered by the U.S. Postal Service can now be ordered at www.Covid.gov/tests by filling out a short online form. People who need help placing an order for free test kits can call 1-800-232-0233 or the TTY help line for the hearing impaired at 1-888-720-7489.
Orders will begin shipping on Monday, with each residential address eligible to receive four test kits, which come packaged in two boxes and retail for between $20 and $25 per box in local stores and pharmacies.
Medicare recipients and those with good health insurance should have been able to get these tests covered through their health insurance throughout the summer, but uninsured or underinsured people have been without free Covid tests since the COVID-19 federal health emergency ended on May 11.
"Tests may show 'expired' dates on the box, but U.S. Food and Drug Administration has extended those dates," the COVIDTests.gov website states.
Demand for Covid tests has been extremely low over the past year, meaning millions of test kits would have had to have been discarded had the FDA not extended those expiration dates. A link is provided on the website so consumers can look up the brand and type of test they receive in the mail through the program – or even to look up any old, unused tests they might have around the house – to see what the FDA says the "real" expiration dates are.
The dates on certain popular tests have been extended for up to 15 months, with some tests which technically expired on June 30, 2022, now good through at least the end of September. Many tests that would have expired soon are now OK to use through summer or fall of 2024. It's best to keep the test kits in a sealed container or Ziploc bag, protected from humidity, and in a cool, dark place like a linen closet.
Most importantly when the test is used, the Control or "C" panel should activate when the sample liquid is applied to the test cartridge. If the C does not show a colored line after the liquid is added, the test result is not valid – whether or not the test kit says it's expired. 
While the newly formulated Pfizer and Moderna shots are available at local pharmacies now, a third shot produced by the Novavax company waits in limbo.