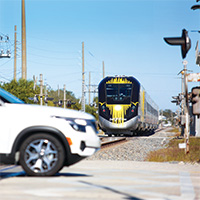 Here come the trains!
STORY BY MILTON R. BENJAMIN (Week of September 21, 2023)

Eleven contentious years after a project calling itself All Aboard Florida announced plans to run several dozen passenger trains a day through Vero Beach at speeds of up to 110 miles an hour en route from Miami to Orlando, the moment of truth has finally arrived.
Tomorrow, barring yet another delay of which there have been many, the passenger railroad – which for a while was calling itself  Virgin Trains and now is on its third name, Brightline – is finally planning to start regularly scheduled high-speed service through Vero's upgraded rail crossings.
Preparations for the formal start of rail service – which will pass south to north across the county but not stop for passengers in Vero Beach – came right down to the wire, with workers installing new traffic signals the past couple of weeks on Old Dixie Highway at six intersections near railroad crossings.
The purpose of the new traffic signals is to keep traffic moving across Old Dixie Highway and prevent vehicles from stopping on the tracks, which run parallel to the road through much of the county. 
The start-up of scheduled passenger service between Miami and Orlando had been set for Sept. 1, but it was pushed back because of delays completing federal safety requirements and crew testing, Brightline said.
That was only the most recent delay. A private investment company, Fortress Group, which originally announced plans for the high-speed rail service between South Florida and Orlando in 2012, at one point was optimistically talking of having its trains blasting through Vero as early as 2017.
The Brightline trains finally launched on a limited basis in 2018, with service between West Palm Beach and Fort Lauderdale, and then extended to Miami.
Since the South Florida route's inception, Brightline has been plagued with deaths from pedestrian collisions with the train – some of them accidents, more of them suicides – but those grisly headlines continue to cast a dark cloud on the Brightline brand image.
In 2020, Brightline suspended the trains due to the Covid-19 pandemic, but resumed passenger service between Miami and West Palm Beach in November 2021 after a nearly 20-month shutdown.
During much of the decade since our first story on this appeared, Indian River County did everything it possibly could to keep the trains from coming north of Palm Beach.   
The concerns here were varied. Worries over safety and environmental impacts led the way.
But concern was also voiced over the impact of the trains on property values in the rail corridor; over the increased rail traffic bisecting the community; and over concern about delays for ambulances rushing residents living west of the tracks to the Cleveland Clinic Emergency Department.
Even as Brightline was proceeding with upgrading the Florida East Coast Railway freight tracks through the Treasure and Space Coasts to meet federal standards for high-speed passenger trains, the county was spending approximately $4 million on legal and lobbying expenses fighting the proposed service.
After the county lost a final appeal in 2020 to the U.S. Supreme Court on the Federal Railroad Administration's approval of Brightline, the two sides reached a settlement in June 2021 whereby Brightline agreed to install $31 million worth of safety features at 32 railroad crossings in Indian River County, as well as along the tracks.
Since this Spring, Brightline test trains have been seen from time to time moving through Indian River County at less than full speed, but considerably faster than the freight trains that have long rumbled through Vero at about 60 miles per hour.
Brightline initially will not pick up passengers at any stations between West Palm Beach and Orlando, but it is expected at some early point to add a station in the Cocoa area, and has promised to eventually open one somewhere along the Treasure Coast.  That location, however, is not expected to be in Vero Beach.
Over the past decade, Brightline has undergone several changes in majority ownership.  Fortress Investment Group, the New York firm that launched it as All Aboard Florida, was acquired in 2017 by Tokyo-based Softbank Group, a Japanese multinational investment holding company.
Then this past May, Mubadala Investment Co., an Abu Dhabi sovereign wealth fund, announced it had entered into an agreement to purchase just over 90 percent of SoftBank's equity in Fortress Investment Group along with Fortress management. Brightline's leadership was expected to remain the same, according to a press release.
In July, Bloomberg reported that the Committee on Foreign Investment in the U.S. was reviewing Mubadala's planned takeover of Fortress amid concerns over the United Arab Emirates' ties to China.
Staff Writer George Andreassi contributed to this story.