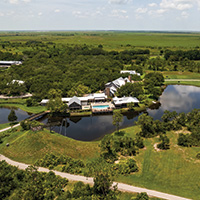 Islanders hunting for more choose Pine Creek Sporting Club
STORY BY STEVEN M. THOMAS (Week of September 28, 2023)

The 32963 island lifestyle isn't bad, what with the ocean and river and golf courses and tennis centers, not to mention exceptional restaurants, boutiques and country clubs – but even paradise can get a bit boring after a while.
The good news for islanders who find themselves feeling jaded is there's a whole other world just a short drive to the west – the romantic  rural world of cattle ranches, citrus groves and hunting lodges.
And you don't have to rough it to lose yourself in that vast, mostly silent environment. There are a handful of private hunting clubs west of Vero where seaside residents can and do indulge their desire for wilderness and wing shooting while still enjoying the finer things in life.
The most renowned is Pine Creek Sporting Club, where a number of island residents have elegant country homes in the midst of a 7-square-mile hunting, riding, swimming, fishing and fine-dining playground that is restricted to just 100 members, their families and guests.
There is a grand lodge with swimming pool and lake, a treehouse where dinner parties are held and a gun room with shotguns that have six-figure price tags and are available for a member's use.
In a 2015 feature called "The Millionaires' Gun Club," CNBC reported that Pine Creek, which is located in Okeechobee County an hour drive from Sexton Plaza, includes "all the amenities of a 5-star hotel."
"The lawn is mowed, the beds are turned down, the wash is done," CNBC quoted club founder Stephen A. Meyers saying about the level of service at private homes inside the gate. "Your massages are set up . . . and your shopping is done in town."
With that kind of service from a 40-person staff, members can jump right into their sporting lifestyles when they arrive for an afternoon shooting competition or month-long stay in homes that range from modest-size "cabins" to 15,000-square-foot houses, set on private ranches as large as 200 acres.
And shooting is what it's all about.
"Pine Creek Sporting Club is known as the wing and clay aficionados' ultimate private experience," said Premier Estate Properties agent Lange Sykes, who has a $17,459,000 listing in the club. "It is unique in this part of Florida.
"Dues are $43,000 per year, and for that you get unlimited ammunition and guided hunts throughout the season," and much more.
Founded in 2007 by Meyers, a cable TV mogul turned developer, the club has been written about in the New York Times, New York Post, Palm Beach Post, the Land Report, Haute Living and other publications, and featured on the popular syndicated show "Lifestyles of the Rich and Famous."
Founding members include Jack Nicklaus, fellow PGA golfer Nick Price, and Heisman Trophy winner and former New York Giant running back Tucker Frederickson. Among other notable residents are Howard Lorber, CEO of Douglas Elliman, who owns a 50-acre ranch in the community, and Donald Trump Jr., who has a cabin near the lodge.
"Jack Nicklaus loved to bird hunt and wanted to have a place to come and get away from the golf world, which is why they don't have a golf course," Sykes told Vero Beach 32963.
Bird hunting includes quail, pheasant and turkey, and there are extensive skeet and trap shooting courses with frequent organized shoots to sharpen skills and reflexes. Game is so abundant that ranch owners can sometimes bag deer from a balcony or veranda on their own property. Besides birds, guided hunts also go after wild boar on club property, and deer and alligator hunts can be arranged by club staff. There is an English shooting pro and fulltime dog trainer overseeing the kennels.
For people who aren't interested in shooting, there's horseback riding, swimming, fishing and lodge life, with lots of events during the busy season, which starts earlier in the fall and ends later in the spring than the island's season. "Pine Creek is busy with shoots, competitions, holiday parties and special events," said Jim Patrick, who with his wife Donna owns an ocean-to-river property in Vero's Estate Section as well as PineHaven, the 40-acre ranch and 15,000-square-foot home in Pine Creek that Sykes is representing.
"There are other Vero families that are members and the social scene is quite active during season with numerous parties and events," agreed longtime Riomar resident Han Kraaz, who owns a 50-acre ranch at Pine Creek.
"They are always doing fun things for members," said Sykes during a tour of the club facilities. "They go above and beyond for holidays. Halloween is big out here, along with Thanksgiving, Christmas and New Year."
So happy memories of the night before often are still revolving in members' minds as they head out on early-morning hunts, guided or self-organized, into vast, open terrain that evokes both Old Florida and African savanna.
When the game bags are full, hunters can return to their luxurious homes to get ready for the coming evening.
The community benefits from a consistent architectural style that mandates cypress siding and metal roofs to create an authentic ranch look, and talented architects and interior designers have been at work.
PineHaven Ranch is a good example of the rustic elegance seen within the club. Rough-sawn cypress, heavy beams, oak floors, huge interior spaces and fine details characterize the Patricks' sprawling lodge-like home, which has 12,000 square feet under air and 15,000 under roof. There are nine bedrooms, including the 34-foot by 20-foot primary bedroom, 7.5 baths, a 22-foot by 47-foot recreation room, a 21-foot by 19-foot living room, and a veranda in the back overlooking a private lake that would do justice to a classic Adirondack hotel.
"The architecture is Adirondack Great Camp style," said Jim Patrick, an attorney and executive chairman of leading wound care company CutisCare, who bought the home site in 2017 and spent two years building the house.
Donna Patrick, who has a background in business, fashion and interior design, working with Bob Mackie and other luminaries during her career, was the guiding force in the home's interior, which makes an impressive stylistic statement and includes three fireplaces and lots of natural wood.
"There are great views from every room," Sykes says. Practical features include a three-car garage, air-conditioned gun safe, meat freezer and dog wash.
According to the Wall Street Journal, which wrote about the estate in its Private Properties section in August, "When the Patricks visit the ranch, Jim Patrick likes to hunt and his wife prepares and cooks the wild game he brings home."
Jim Patrick told Vero Beach 32963 that favorite activities include "sporting clays, quail and pheasant hunts, some horseback riding and cooking and relaxing in the serene preserve setting."
With two big, beautiful homes close together but in such different environments, Patrick said he and his wife are "never bored or lacking in an activity." The contrasting environments provide "as much activity on land and sea as one could desire.
Riomar resident Kraaz, CEO of Intercoastal Financial Group LLC and "a renowned captain and competitive fisherman," has a similar take on the benefits of an island/country lifestyle. 
"It allows one to enjoy the benefits of a coastal lifestyle with a quick transition to a completely different lifestyle and environment," said Kraaz, who spends much of October, November and December at his ranch home, "quail hunting, clay shooting and horseback riding."
Pine Creek Sporting Club is half an hour west of I-95 on State Route 68 (Orange Avenue). On the way there, the road passes between the 40,000-acre Adams cattle ranch and another big 10,000-acre bull-breeding operation, and the club is surrounded on all sides by open pasture and wooded hunting land. "Membership is offered through the purchase of a ranch or cabin," Sykes said. "There are 27 ranch sites between 40 and 200 acres, 23 cabins around a beautiful 5-acre lake and 20 well-appointed hammock cabins."
Unfortunately for would-be buyers, there is very little property turnover. Most of the people who have bought and built in the club like it too much to leave. As of Monday, PineHaven Ranch was the only property on the market in the club.