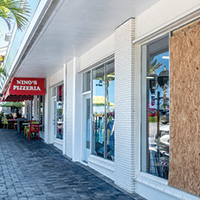 Shooter in fight at Humiston Park won't be charged
STORY BY NICK SAMUEL (Week of September 14, 2023)

A post-midnight fight between two groups in the Humiston Beach parking lot early on Sept. 3 led to gunplay that sent a 19-year-old Vero youth to the hospital and shattered windows at Corey's Pharmacy and Nino's Café.
But police said Monday that while charges will be forthcoming for some members of the two groups – one from Vero, the other from Okeechobee – involved in the 2 a.m. fight, the 17-year-old Okeechobee youth who gunned down the Vero man will not be charged in the shooting.
Police and the state attorney's office determined the Okeechobee teen was defending another person and was justified in shooting the Vero youth under Florida's Stand Your Ground Law, according to police spokesperson Kelsea Marty.
The Vero teen who suffered a gunshot wound to the abdomen underwent surgery and remained in stable condition Monday morning at HCA Florida Lawnwood Hospital in Fort Pierce, Marty said. "He was awake and talking," Marty said.
"After a full review of the incident and all evidence, investigators have concluded that the juvenile acted in defense of another at the time of the shooting," police said in a statement. "The incident remains under investigation with criminal charges pending for other individuals involved."
The overnight gunfire struck and shattered a window at Corey's Pharmacy located at the entrance of the Humiston Beach parking lot, Marty said. A bullet also pierced a hole in the window at Nino's Cafe. 
Marty said there were more than a few people in the two groups that fought before shots rang out. Police recovered the gun used in the shooting. Marty said No other weapons were found at the scene.
Drugs were not involved in the fight, police said.