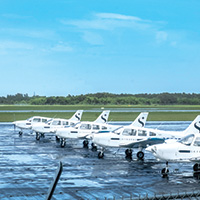 Skyborne Airline Academy lands a new managing director
STORY BY RAY MCNULTY (Week of September 14, 2023)

Skyborne Airline Academy's Vero Beach campus has a new managing director.
The United Kingdom-based flight school announced this week that Dan Peterson, who served in the U.S. Air Force and Utah Air National Guard for 23 years before retiring as a commander in 2008, has been hired to oversee the Florida facility's operations.
Peterson replaces Ed Davidson, who retired last month after 15 months with Skyborne here.
"Leading the Skyborne Vero Beach team has been the highlight of my 50-year aviation career," Davidson said Tuesday. "Since March 2022, there has been a 220-percent increase in students, with more than 300 individuals currently in training."
He added that he was confident his successor would "make a significant impact on Skyborne's growth and development."
Peterson, who has a doctorate in curriculum and instruction from Utah State University, had spent more than 20 years in senior educational roles, most recently as president of Herzing University's Online Division, where he rapidly grew the Wisconsin-based school's student population and launched five new programs.
During his time in education, Peterson also served as president and chief executive officer of Spartan College of Aeronautics and Technology in Tulsa, Oklahoma, where he was instrumental in the evolution of teaching methods for the first Federal Aviation Administration-approved hybrid aircraft maintenance technician program.
"Dan's career demonstrates a track record of success and growth, focused on helping the next generation to thrive," Skyborne Chief Executive Officer Lee Woodward said in the announcement. "At Skyborne, he will play an active role in overseeing flight training operations and enhancing our growing network of airline partners."
Peterson said joining Skyborne enables him to combine his passion for aviation and education, and apply them to the "ultimate combination – an academy that excels in developing pilots with character."
He said he was looking forward to working with Woodward and the rest of Skyborne's leadership to "continue to open up flight training and genuine career options to the best and the brightest."
Skyborne purchased Flight Safety Academy in Vero Beach in May 2021, and the academy continues to thrive amid a global pilot shortage.
In June, Delta Airlines became the largest commercial carrier to establish a partnership with Skyborne, which welcomed to Vero Beach the first 20 students to the train at the airline's Propel Flight Academy.