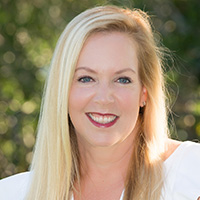 Tracey Zudans looking to move up to County Commission
STORY BY RAY MCNULTY (Week of September 14, 2023)

Less than halfway through her first two-year term on the Vero Beach City Council, Tracey Zudans has announced that she is running for the County Commission's District 5 seat next year.
Why now?
Zudans, 52, said she has already accomplished the mission that drove her to run for City Council – moving the Three Corners project into a position where it is poised to become a reality – and she's ready to take her fiscally conservative principles to the county government.
In a statement Zudans publicly released Friday, after filing the required paperwork with the Supervisor of Elections Office, she said: "Serving on the Vero Beach City Council has been such a rewarding experience, and I believe my vision of common-sense, efficient, accountable and limited local government will work at the county level."
She went on to add: "We must keep all the communities in our county safe and secure, limit government interference in our lives and businesses, and continue to fight for a clean and healthy lagoon. We must be vigilant not to ruin our county with excessive government control of our lives."
Zudans is seeking the District 5 seat currently held by first-term County Commissioner Laura Moss, who served four years on the Vero City Council, including stints as mayor and vice mayor.
District 5 includes the barrier island from the Wabasso Causeway to the St. Lucie County Line.
Moss wrote in a text message to Vero Beach 32963 that she plans to file for re-election "shortly," probably this month.
"Through my second term on the County Commission, I look forward to continuing implementation of positive practices that I have maintained and espoused since serving as mayor and vice mayor of Vero Beach and on the Vero Beach City Council for two terms," she wrote.
"For example," she added, "great outreach to our community and increased collaboration among city, town and county governments in service to the public good."
Zudans' announcement states that she has worked hard to "improve the city's local economy, natural resources and overall quality of life," adding that she has "never failed to put the citizens first" and would do the same as a commissioner.
During a phone interview last weekend, Zudans didn't mention her presumed opponent by name. Instead, she said, "I'm running my own race," and that she believes she's the better candidate to address the issues and challenges confronting the county at a pivotal time.
"I've built good relationships with people in both the city and county, and a lot of the issues we're working on in the city need to be worked on in the county," Zudans said. "Many of those issues affect the entire community, and I'll bring experience in dealing with them."
Zudans said she sees "too much redundancy" in spending between the county and special taxing districts, as well as a trend toward "taxpayer-funded philanthropy."
She said her agenda will focus on making the county government "more efficient and less costly."
Zudans' decision to run for county office comes at a time when the City Council is moving forward with several major projects, including relocation of the municipal wastewater treatment plant from the banks of the lagoon to Vero Beach Regional Airport, revitalization of the downtown area and, of course, the Three Corners development of a waterfront dining, retail, social and recreational hub at the west end of the 17th Street Bridge.
But she said the timing can only help – not hinder – the fate of those projects because, as a commissioner, her familiarity with them would only enhance any needed cooperation with the county.
Zudans is especially excited about the Three Corners project.
"That was a big reason why I ran for City Council," she said. "Now that we've gotten the referendum approved and the RFPs (requests for proposals) out, I will continue to be active, making sure that this project moves forward over the next year.
"By next November, at the end of my term," she added, "it will be well underway."
Before winning a seat on the City Council, Zudans served as an elected trustee on the Indian River County Hospital District Board. She also served on the board of the Veterans Council of Indian River County.
A University of Florida graduate, she has been involved with several local philanthropic efforts and served as co-president of the St. Edward's School Parents Association. Her husband, Val, is an eye surgeon and former Vero Beach mayor, and they have four children.