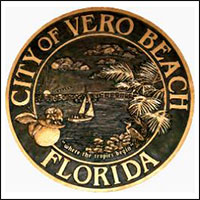 Vero City Council race has a surprise field of 8 running for 2 open seats
STORY BY NICOLE RODRIGUEZ

The race for two open Vero Beach City Council seats suddenly became crowded minutes before the noon filing deadline last Friday, allaying any concern there would be little competition for the seats abandoned by their incumbents.
Eight candidates are now vying for the City Council seats being vacated by Mayor Val Zudans and Councilman Harry Howle.  The diverse crowd includes political newcomers along with faces familiar at council meetings and throughout the community. Five island and three mainland residents are running. The race will be decided Nov. 5 with the top two vote getters winning the open seats.
Bob McCabe, an island resident who unsuccessfully ran for a City Council seat last year, hopes he'll have better luck this election cycle. McCabe, 76, who is president of the Vero Beach Chamber of Commerce and worked for General Motors for 32 years, has called Vero home for nearly nine years and wants to "Keep Vero Special," he said of his campaign platform.
McCabe is also running to preserve and promote city assets, the Massachusetts native said.  "I was a little frustrated with City Council trying to sell off city assets, which I didn't like," McCabe said of Zudans' proposal to lease the Riverhouse to a brewery.
Nick Thomas, 56, is another familiar face who unsuccessfully ran for City Council and a seat on the Indian River County Commission in 2012. An attorney who has lived in Vero Beach sporadically since childhood before settling here permanently in 2005, Thomas wants to decriminalize marijuana, clean up Bethel Creek and cease city spending on outside lawyers, according to his website.
Thomas plans to communicate to the public primarily through his website www.lagoonadvocate.com, he said. "For those interested in meeting fact-to-face, I plan to be at Rio Coco coffee shop in downtown Vero most mornings at 11 a.m., Tuesday through Saturday," Thomas' website states.
Well-known local attorney and island resident Joe Graves, 56, also threw his hat in the ring. Graves, who grew up in Vero Beach, is a fiscal conservative. "Every council should be looking at how we could be better stewards of how we spend tax dollars," said Graves, who believes funds allocated toward keeping the Leisure Square pool open is money well spent. The redevelopment of Centennial Place is the top issue the city currently is facing, Graves added.
Perennial candidate and former one-term Vero Beach City Council member Brian Heady, 71, is one of the familiar faces running who regularly attends board meetings to voice his disdain about the lack of time public speakers get in council chambers. "Lying cheats should not be in charge of government agencies," said the New York native, who has lived in the city for the past 30 years, adding he's advocating for parks improvements and for Leisure Square pool to survive budget cuts.
The rest of the field consists of political newcomers, including Jeff Nall and island residents John Cotugno, Rey Neville and Estelle Panagakos.
Nall, 40, who has lived in Vero Beach since 2014, is an adjunct professor who teaches philosophy and humanities at Indian River State College and the University of Central Florida. Nall believes seeking out different perspectives in the community through more public workshops can help solve the city's issues, and has spearheaded efforts to keep the Leisure Square pool open after the council decided to close it during a budget workshop.
"We have a City Council that too often wants to tell their constituents what to do," Nall said.
Cotugno, 71, worked in sales and marketing for various companies, including Texas Instruments. In his spare time, the Rhode Island native who's owned a home in the city since 2017, is an advocate for Alzheimer's Disease.
"We need to have more fact-based business decisions made before we go ahead and make statements and decisions. A perfect example is Leisure Square pool – a deep dive should have been done on the numbers. The turmoil that occurred was avoidable if they had taken a more pragmatic business approach to reviewing the budget."
Neville, 77, a retired Air Force colonel and former executive at a plastic manufacturer in St. Louis, is running to carry out the will of the people regarding city projects including the redevelopment of Centennial Place and the Vero Beach City Marina, he said.
"I firmly believe those of us that serve the public should be doing what our citizens want," said Neville, who added, "I want to preserve our values and I also want to help shape our future, but I want to do it with the community involved." (See Rey Neville story)
Panagakos, 70, is a retired school teacher and probation officer who moved to the city in 1978. She is advocating for smart, controlled growth and feels strongly all taxpayers deserve a seat at the table when decisions are made, she said.
"The decisions are basically made by the people who are here year round," Panagakos said. "I really care about this town and want to see it go in the right direction."
The salary for a council member is $900 per month, while the mayor makes $1,125 per month. The new City Council members will be sworn in on Nov. 18 at 10 a.m. at City Hall. A new mayor and vice mayor will be chosen by the council on that date.